Just like my many Malaysians pals, I am passionate about food, good food. You can imagine my devastation when I came to the kiwi land 7 years ago. The food variation was not that bad, but significantly less if compared to my home country. Of course, I know I shouldn't compare, every country has it's good and bad points, so I set myself out to an on going mission to hunt for good food, well, good Asian food mostly. Luckily, the food choices over here has improved over the years, and being the glutton, I am happy sampling away the delicious cuisines of many nations. Here's one of the many that I love, Turkish chicken on rice.
Chicken on rice is a dish containing layers of roasted chicken pieces on top of specially cooked fragrance rice, served with green salads and homus. You can choose among the many sauces, like homus, chilli, bbq, tomato, mint and garlic yogurt as topping. I usually go with my favourite homus sauce. The taste is heavenly, oozing with aroma. Mr K and I used to have this 2-3 times a week when we were students because the shop is just right around the corner from uni. Of course, there's their famous kebab and Mr K's favourite Lamb on rice as shown in photo below. And let's not forget their super crispy homemade fries, the best in town!This delicious dish is typically found in many Turkish kebab stalls around town, but I find the one from Kebab on Queen to be the best. Their warm customer service just keeps me going back for more. Why is is called Kebab on Queen? This kebab shop originated from a small (And I mean small, with only 2 small tables right in front of their store) on Queen Street, the busiest business district in Auckland. It is one of the rare food outlet that opens till late (well over mid-night) and 24 hours on weekends. Business is always busy there, and you can see long queues during lunch hours. I stayed in the city centre for about 4 years when I was studying, and used to patronise the shop frequently. So nowadays, everytime I eat this delicious meal, I eat it with a sense of memory.

Their new stall in the newly opened Sylvia Park mega mall.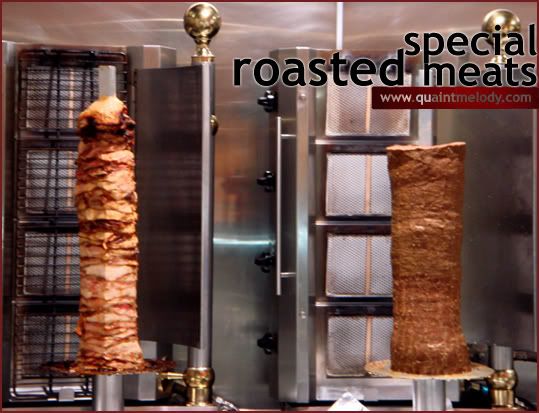 MR K's favourite, lamb on rice.
**Start Copy**
Proposition: What is your favorite food in your state or country?
Requirements: Find some info about the food and show delicious pictures of it?
Quantity: FIVE PEOPLE.
Tag Mode: You leave their blog and post link and add to the list below.
Mybabybay loves Asam Laksa from Penang, Malaysia
JustMyThoughts loves Penang Char Koay Teow
My Lil Venture loves Laksa Sarawak
Montessorimum loves Teluk Intan Chee Cheong Fun
Chinnee loves Melaka Wan Tan Mee
Leah loves Hakka Lei Cha
Hui Sia loves Crispy Duck Skin from China
Karen loves Pan Mee.
Simple American loves Cheese Enchiladas
Giddy Tiger loves Dim Sum
CC loves Turkish Chicken on Rice
**End Copy**
Here are the five lovely bloggers I'd like to tag:
Criz from Criz's Sanctuary
KC from Earth-Bound Insight
Kok from Not so complicated…
FireHorse from Fatty Poh's Kopi Tiam
Iwan from Iwan SanchezLet's share your favourite food! Have fun! 😉

Technorati tags: kebabs on queen turkish food
15 Responses to "Turkish Chicken on Rice delight."
Leave a Reply