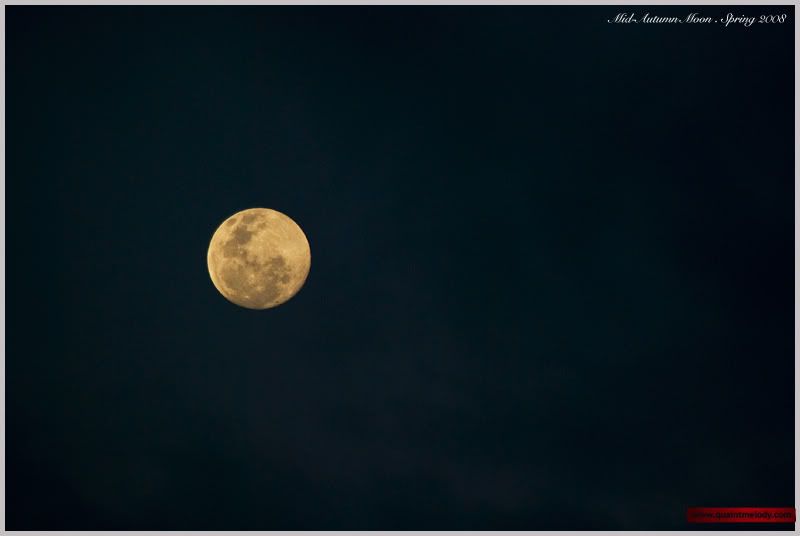 The moon appeared a little over 6pm. As it became brighter and the sky darken, I immersed myself in the mesmerising and mystical air. My loved ones in that faraway land, I miss you all and wish you well.
Happy Mid-Autumn Festival . 中秋節快樂! click photo to enlarge.
The moon was beaming, stars twinkling across the universe
When I looked upon the sky, I thought of my loved ones
Though we're miles apart, our hearts never felt so close
The rounded moon seemed to speak wonders
Illuminating scrolls of tales and dreams
Tales of love and togetherness
Songs of mellifluous melodies
I caught a spark in the dazzling light
and immersed myself in the majestic mist that is the night
I heard a quaint melody, coming from afar
From the land of mystical tales
Where dreams and emotions intertwine into a beautiful weave of symphony
明月高挂
悠悠地訴說著憂怨往事
幽思千古情恨
故人是否仍舊 孤寂
當我望向青空
憶起遠方親朋
人月是否 依舊
* Mid-Autumn Festival is a traditional Chinese Festival. It is celebrated on the fifteenth day of the eighth moon in lunar calendar. Read more about it here.
50 Responses to "Moonlight rendezvous"
Leave a Reply